The "Town wrecks"
GPS position: 58 09 300 N – 008 01 953
1 yellow surface boa
Type: wreck
Length: 35 m
Level: For everybody
Current: no
Depth: 20 to 24m
Lays on a harbour in Lund at Kristiansand.
Easy dive for all divers.
Well protect from any bad weather conditions.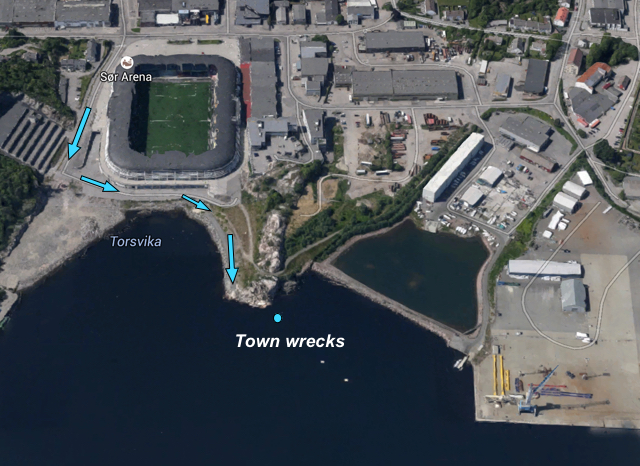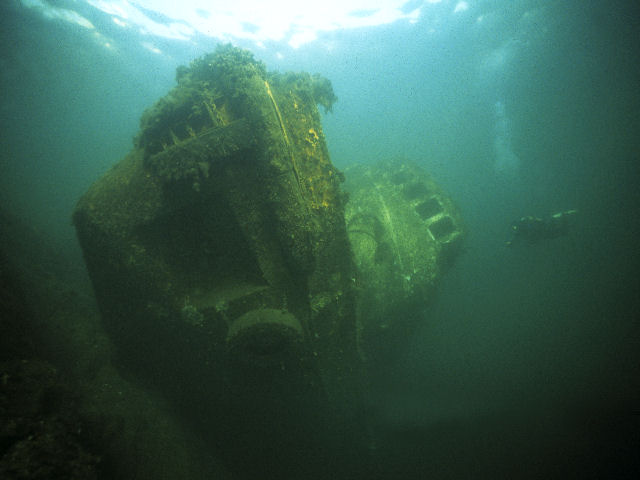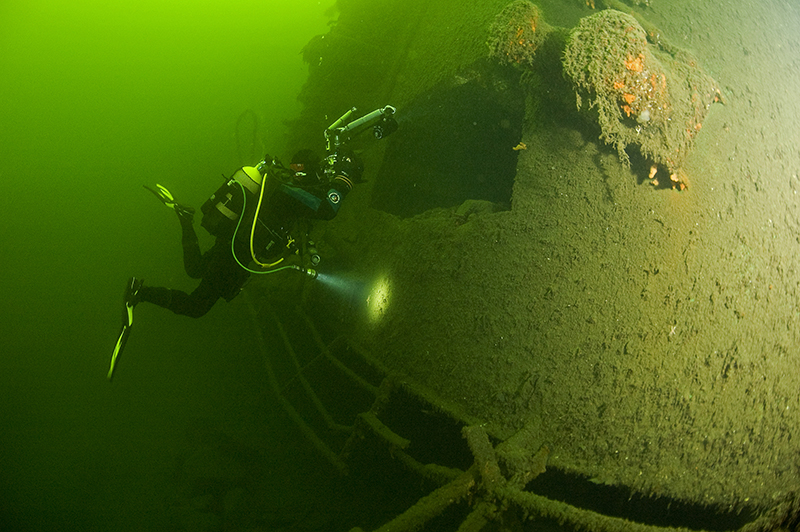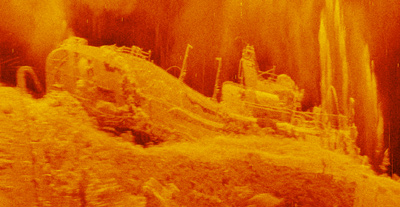 The two wrecks that in Kristiansand are known as "Byvraks" ("Townwrecks") are in fact a double wreck which is situated in the Kongsgård Bukta, close to the center of Kristiansand, hence the name. They are the tugboat "Bjarte" and the trawler "Kjelløy", that were both intended to be scrapped by the local company Sjuve Ship Gjenvinningsindustri. Both ships sank around november 1995 tied together in a stormy night close to the quay. The exact reason for their sinking was never made public. Both ships had been laid up for a longer time and were waiting, already prepared, for being scrapped. According to pu
blic documents they were intended to be dumped in the nearby Topdalsfjord, which at that time was used as a dump area for discarded smaller vessels. But for unknown reasons this never came to happen. In 2004 plans were discussed to raise the two wrecks but these plans were finally rejectet because of the high costs. Today the two wrecks lie sideby side on their port sides at a depth of max. 18 m very close to shore. Anyway the best way to get there is by boat. The location is well protected from the sea and the weather and because of the shallow depth the double wreck is very well suited for less experienced wreck divers or for a second dive after deeper dives. The diving conditions are very easy. So for good reasons dives at the two "Townwrecks" are very popular. Here you have the chance to explore two wrecks on one single dive. Because of their young age and their well protected location both wrecks are relatively intact and well preserved. Since they are very easily accessible, they offer relaxed wreck dives even for less experienced divers. Although you can get a good impression of both wrecks on one single dive, they offer so much to see, that you can easily spend several dives on them.
The "Bjarte"
The tugboat "Bjarte" is the smaller one of the two wrecks. It lies just behind the "Kjelløy", if you look from the quay. It rests at a shallow depth of 10 m. The highest point is just 2 m below the surface.
The "Bjarte" was built in 1964 at the german shipyard Schulte & Bruns in Emden. The yard number was 237. The first owner was the well known danish company A/S Em. Z. Svitzer´s Bjergnings-Enterprise from Kopenhagen. On the 12th of august that year "Bjarte" was delivered to it´s owner. She was registered in Nyborg. The tug´s 1320 hp engine gave it a bollard pull of 19 t. It´s hull was ice strengthened and was capable of off shore duties. "Bjarke" sailed for Svitzer for 20 years before she was sold to norway in 1984. The new owners were the Brød. Sørensen A/S from Porsgrunn. They renamed the tug to "Findal". So Porsgrunn became it´s new home port. In 1986 it was sold again, this time to the salvage company Bukser og Bjergnings A/S that was also from Porsgrunn. There it was renamed to "Bjarte". It is unknown how long she remained in active duty. Probably around 1995 she was sold to the recycling und shipbraking company Sjuve Ship Gjenvinningsindustri from Kristiansand to be broken up.
Technical data "Bjarte":
Tonnage: 157 BRT
Length: 27,34 m
Width: 7,52 m
Draught: 2,75 m
Engine: one 8 cylinder-4 stroke-Diesel built by Klöckner-Humboldt-Deutz A.G. from Cologne with 1320 hp
Bollard pull: 19 t
Fuel capacity: 36,5 t
The "Kjelløy"
The trawler "Kjelløy" is the bigger wreck, measuring approx. 40 m in length. It lies very close to the shore at a depth of 18 m and goes up to 5 m below the surface. To this very day it proved impossible to research the identity and history of the "Kjelløy" with absolute certainty.