Recreational courses
Note that on our courses EVERYTHING is included: Borrow all the diving equipment you need.
This of course also applies to the ABC equipment (mask, snorkel, flippers, shoes and gloves)
Our courses are limited upwards to a maximum of 4 students per. course.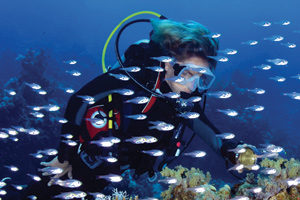 Try diving!
One Ocean offers  test dives every Thursday at 5 pm, in the pool at Åros, together with a diving instructor. Feel free to bring a friend, and you are two people who can try it together, and share a wonderful captivating experience of freedom, silence and excitement.
SCUBA EXPERIENCE
The Scuba Experience program is not a course, but an introduction to diving. At the end of the course, the participant will receive a certificate confirming participation, but this is not proof of the participant's qualifications as a diver. Therefore, the interested party can continue with a basic Scuba diving course if he / she enjoyed the experience.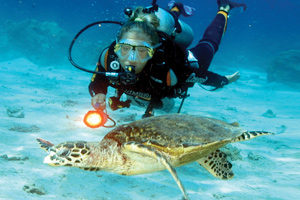 OPEN WATER DIVER
The Open Water Diver Course is a great "beginning", but is more challenging then the Scuba Experience as you will become an autonomous diver. The international certification you will attain enables you to dive (without the requirement of being accompanied by a diving professional) with a dive buddy to a maximum depth of 18 meters (60 feet).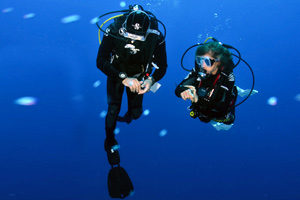 ADVANCED OPEN WATER DIVER
The Advanced Open Water Diver course represents the second level of training, thanks to which you will learn to manage some special activities such as exploring deeper and navigating with and without a compass. You may also learn to search and salvage objects, dive in a current, dive on wrecks, in conditions of poor visibility, or at night. The international certification you will attain certifies you to dive, with a dive buddy, to a depth of 30 meters (100 feet).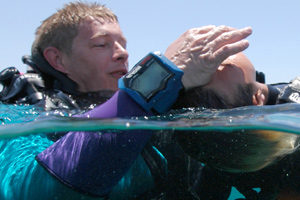 SCUBA RESCUE DIVER
The Scuba Rescue Diver course is one of the best ways of learning how to deal with diving emergencies. However, in the PSS training system there are two other courses dedicated to rescue: First Aid – CPR and Oxygen in Diving Emergency. The first has general applications, while the second deals with the administration of normobaric oxygen to an injured diver. These three courses are therefore complementary and designed to deal with all the possible scenarios of any type of diving emergency.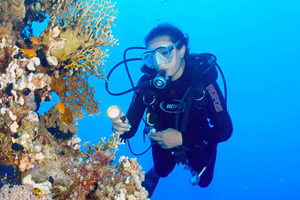 DEEP DIVER SPECIALTY
Although the Advanced Open Water Diver certification opens the door to many new diving opportunities, going deeper can be irresistible. If you want to venture to deeper depths, you can attend the Deep Diver course. At the end of the training you will be able to make no-deco stop dives with a dive buddy to a maximum depth of 40 meters (130 feet), which is the maximum depth limit for recreational divers.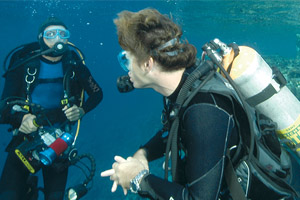 NITROX
Nitrox (EANx) Diver – Junior Nitrox (EANx) Diver
The course is a specialty for divers who want to use the nitrox mixtures safely, and it can be done at the same time as any other leisure course. At the end of the didactics, Nitrox (EANx) diver can plan, make and register dives of nitrox mixture
Furthermore, Nitrox (EANx) divers can get nitrox mixtures and other related services needed to perform dives on their own without professional supervision. The oxygen percentage in the nitrox mixture must be between 21% and 40%.
FIRST AID + CPR
Through a simple and functional program, conceived on the guidelines suggested by the international bodies that deal with it, this course provides basic information and techniques of first aid and cardiopulmonary resuscitation. The course is open not only to divers who wish to acquire rescue qualifications in other teaching divisions, but also to all those who want to prevent an accident or be of support in managing an emergency in everyday life.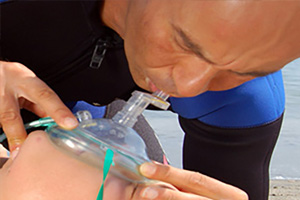 OXYGEN
t is now well known that in most diving emergencies, as in all cases of decompression accidents, the first aid is the administration of normobaric oxygen. Only those who are specifically trained can act with maximum efficiency and competence. The Emergency division of PSS Worldwide has therefore created a complete training course in this field, thanks to which you will learn how to use numerous oxygen devices: on demand and continuous flow, low, medium or high concentration, etc.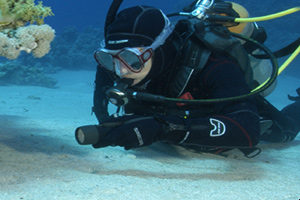 SPECIALTY DIVER
The PSS -PADI_SSI training system provides many specialized courses that are aimed at mastering the diving techniques already acquired or maybe trying something completely new. Some of the courses you can attend are: Night Diving, Limited Visibility Diving, Wreck Diving, Drift Diving, Search and Salvage, Underwater Ecology, Nitrox Diving, Digital Underwater Photography.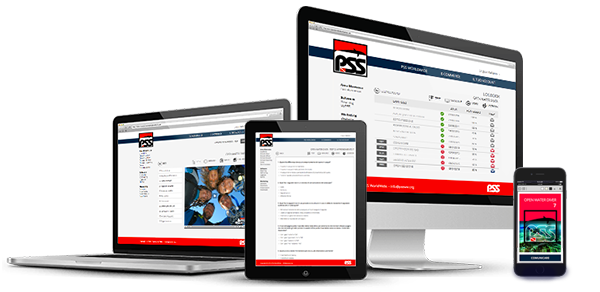 The most advanced study system,
from the most avant-garde diver training agency.
PSS was the first training agency in the world to develop an Elearning applied to diving focusing, when internet was in its infancy, on new technology that would revolutionize the way we learn. Since then, PSS Elearning has never stopped evolving, integrating new functions such as multimedial areas that have earned it, as well as the title as the first elearning in the history of diving, the title as the most advanced "cutting-edge" study system.