MV "Øya" (II) (ex "Ytterdal")
GPS: N 58 06 680 – E 008 03 209
Type: fishing wreck
Level: for everybody
Current: no
Depth: 16 m
Ideal for beginner to experience their first wreck. Sank by the local club few years ago, Mv Øya has become a popular dive site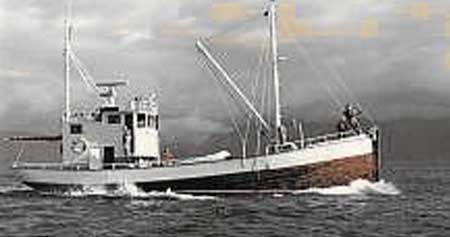 Norwegian coastal passenger boat for local traffic. It belonged to the Lillesand og Topdalens Rutebillag (LTB). Its homeport was Kristiansand.
Build 1911 – †1998
Gross tons: 35,12 GRT
Length: 23,78 m
Engine power: 110 hp
Passengers: 61
The boat was built in 1911 or 1916 at Ølve as "Ytterdal". In 1973 the "Ytterdal" was bought by the local company Lillesand og Topdalens Rutebillag (LTB) as a replacement for its predecessor " Øya" (I). That boat had served the LTB since 1955. The new boat was thoroughly refurbished and modernised and was given the name "Ø ya" (II). It was put in to service between Lillesand and Kristiansand and served the local community in that role until 1976 when it had to be put out of service because of rising costs an legal issues. The next year it was sold to two local owners who renamed it "Costa Plenty". Afterwards the boat was laid up for many years at Ålefjær until it was finally sunk in 1998. It is said to have been sunk by a local dive club. Since the last years of its existence were a little bit obscure and without any significance, the wreck of the "Costa Plenty" is widely known and remembered by the local community under its former name " Øya" (II) because under that name it gained a certain significance for the local history and the social life of the people around Kristiansand. Even today many people share fond memories of this little old ship that for three years played an important role in every day travel of the local people.
Although "Øya" (II) is not a spectacular wreck like the "Seattle" it offers very beautiful and scenic wreckdives under easy diving conditions. It rests at a depth of only 16 to 21 m and is suitable for beginners.