Mv. Havbris
GPS Position: N 58.031709 E 7.784055
Type: Wreck
Technical specifications:
Tonnage: 1315 GRT or NRT 742
Load capacity: 2050 TDW
Length: 73.85 m
Width: 11.34 m
Draft: 4.88 m
Machinery: a three-cylinder triple expansion engine with 900 PS
Speed: 9 kn
Occupation: 13
Difficulty: Experienced divers
Flow: yes
Depth: 55-72 meters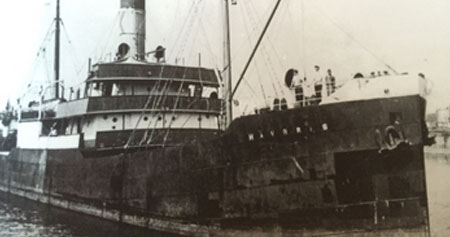 It is not recommended at wind speeds greater than 6m/s to dive by S, SW, SO, W!
The Norwegian freighter "hubris" in 1918 under the name "Hindøy" belonging to the jib & Co. Reederei Dampskib A / S Oy of Oslo, which at that time was called Christiania. Shipyard was the Stavanger Stöberi & Dokk. Built of steel steamship was the discrimination signal Léaz. 1923, the first sale of belonging to the Helmer Staubo & Co. A / S Hav, who was also based in Oslo. Probably got the "Havbris" here her new name, because the Helmer Staubo & Co. had several ships whose names begin with "Hav" began, which means the sea or lake. The name "Havbris" can be translated with sea breeze. 1928 "Havbris" was then taken over by the Albert Harloff's Rederi A / S, which her new home port was Bergen. On the afternoon of January 27, 1945 was the "Havbris", which was led by the captain Peder Haukenæs from Haugesund, lost under mysterious and unexplained circumstances in a storm. There was wind force 9 from the northeast. None of the 13 crew members survived the accident. The only eyewitness who could provide information on the circumstances of the accident, was the lighthouse keeper of Songvår, Jacobsen. He first sighted two nautical miles north-easterly direction from the lighthouse away in a ship that came conditionally fast approaching by wind and current. Early recognized Jacobsen that this ship was something wrong. It no longer seemed to be under the leadership of the team. A little later, the ship drifted 200 meters between the island archipelago Hellesøyskjeret and the lighthouse past so that Jacobsen was able to identify the ship clear: it was the "Havbris". He realized that they had been abandoned. The port lifeboat was obviously left still water, as it was missing and the davit was swung. The starboard lifeboat and a smaller dinghy to the poop deck were still in place. It struck only that the ship had slight list to starboard. He could finally see how it ultimately ran aground at Ulveskjærene. There remained still for about 10 minutes over the water before it sank. The cause of the accident is still unclear.
The wreck of the "Havbris" was found only in August 1990 after a long search. It is in 72 m depth due and is therefore only for technical divers to reach with Trimix. In connection with the legally exposed position, the "Havbris" a challenging dive site for experienced technical divers. The deck is at a depth of approximately 62 m and extends towards the rear slightly sloping. The bridge construction with chimney missing. One of the poles is still pending and extends up to 45 m up. The hull is well preserved and intact to dive!