Dornier Do 24 T-3
GPS position: N 58. 123 .045 -E 008. 04. 166
Type: 2nd worldwar aircraft
Wingspan: ca 26 m
Length: ca 21 m
Level: only experienced divers
Current: no
Depth: 27 to 30m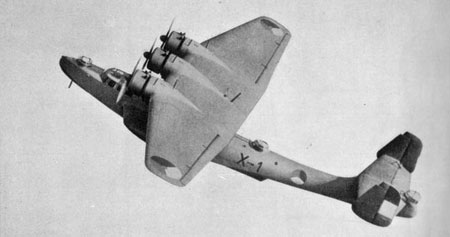 Be careful from the wind from N, NE over 10m/s that it can push you away from land!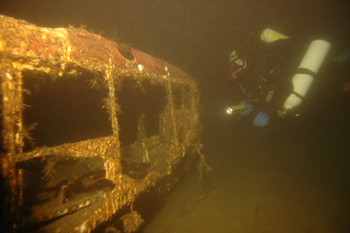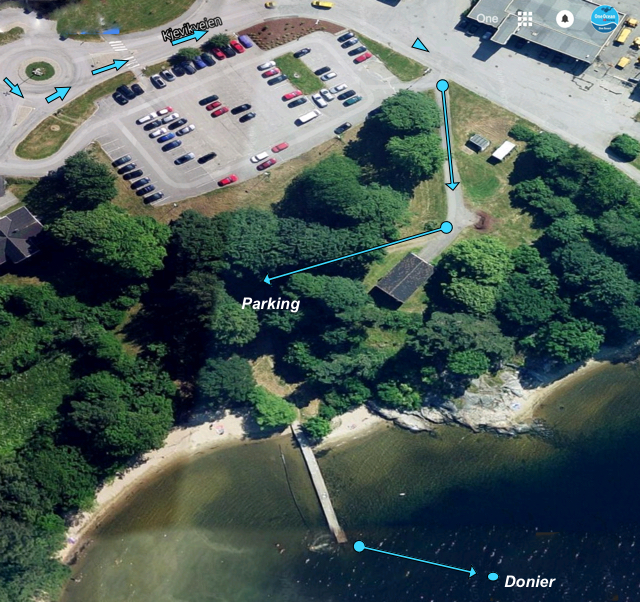 The Dornier Do 24 was a three-engined flying-boat with a strut-braced parasol wing. It's very successful design can be traced back to the 1930s. The prototype first flew in 1937, but due to a lack of interest from the German Air Ministry, the serial production could only start because of a large scale order by the Dutch Marine Luchtvaart Dienst. As a colonial power the Netherlands needed flying-boats for the East-Indies (today Indonesia), a Dutch colony at that time. The interest of the German Air Ministry arose later after the Second World War had broken out, because it needed a capable flying-boat for reconnaissance, transport and search-and-rescue duties. So in early 1941 the model T-1 was developed, which was engined with BMW Bramo-Fafnir 323 R-2. The Fafnir was a descendent of a proven family of engines and like the American Wright Cyclone a nine-cylinder radial engine with 1000 hp alike. In 1942 the improved model T-2 appeared. In August 1942 the T-2 was replaced successively by the T-3. The main difference of this model was it's defensive armament. It had one Rheinmetall MG131/13 mm each in the A- and C-turret, which were mounted in the new D30/131 cupolas. The dorsal B-turret was equipped with a Mauser MG151/15 mm in an armoured HD151/1 cupola. Additionally, the radio and navigation equipment was improved. Among it was a FuG 141, a FuG 16Z and a K-12 autopilot.
The Do 24 at Kjevik belonged to a Seenotstaffel of the German Luftwaffe. It is known that in December 1944 only two Seenotstaffeln were based in Norway. Die Seenotstaffel 50 was based at Sola, near Stavanger, while 51 was based further north at Tromsø. Both Seenotstaffeln were equipped with Do 24 T-2 and T-3. It is impossible to determine with absolute confidence to which one of these two units this aircraft belonged and which aircraft it was. For at least, Kjevik was not the home base of this Do 24, because Kjevik was never used by the German Luftwaffe as an official sea plane base. The Allied secret services always thought so, because in peace time Kjevik had been a sea plane base of the Norwegian Navy before the German occupation. So the infrastructure was still there. Most likely the aircraft at Kjevik was a Do 24 T-3 of Seenotstaffel 51, because the only unknown fates of aircraft refer to this unit. Accordingly, the aircraft should have carried the tactical number P7+?N. The third letter is unknown, as is the serial number.
For unknown reasons the unidentified Do 24 lay surfaced in front of the Kjevik airport in the protected bay of Topdalen-Fjord. On April 22, 1945 a single De Havilland Mosquito FB. Mk. VI of the Canadian 404 Sqn. of RAF Coastal Command was on a reconnaissance flight. This unit had just converted to this type of aircraft and had moved to Banff in Scotland. It had thus become a part of the Banff Strike Wing. It was the 404 Squadrons first operational sortie with the Mosquito. This aircraft was EO-H (S/N RF 851), flown by Flying Officer A. Catrano and Flight Lieutenant A. E. Foord. They had taken off from Banff at 9:26 hrs. At 12:26 hrs they spotted two flying-boats lying at anchor in front of Kjevik which they identified as a Blohm & Voss Bv 138 and a Heinkel He 115. At first, they attacked the aircraft they mistakenly took for a Bv 138 with their guns and then they turned to the He 115. The Bv 138 immediately exploded with a huge plume of smoke, that rose as high as 150 m and went down soon after. The He 115 was severely damaged. No more details are known. The attack came so surprisingly, that the German Luftwaffe was unable to get their Messerschmitt Bf 109 fighters of IV./JG 5 into the air quick enough to counter the attack. Reportedly, the plume of smoke remained visible from a distance of forty miles while the Mosquito-Crew was already on their way home. Most sources mistakenly describe the sunken aircraft as a Bv 138, since this information is obviously given by the RAF combat report. But for a long time it is known that this aircraft was in fact a Do 24, as could be determined by the wreckage on the seafloor after the war. A Do 24 could easily be confused with a Bv 138, depending on the direction of view, since both aircraft types were similar in size and had three engines and high mounted wings. The Bv 138 differed mainly in its appearance by having twin booms. Also both aircraft types could be seen at sea plane bases at the same time.
The wreck now rests in the Topdalen-Fjord in close proximity to Kjevik airport at a depth between 30 to 36 m widely dispersed into four parts. It can easily be dived from shore, as its position is only around 50 m away from shore in a protected bay. A buoy marks the position, so the wreck can be found easily and safely. Several lines connect the four parts with each other, so they can be found and dived even when the visibility is not very well. After the war the wreck was blasted by Norwegian divers. One of the engines is said to have been recovered and given to an unknown museum. In the past the wreck was repeatedly used by divers of different armed forces as a training ground for underwater recovery. So the wings have been relocated. The wreck should be handled with great care and it should be avoided to touch it, since the aluminium structure has deteriorated very badly over the decades, so that it can be damaged very easily. The seafloor is silty, so that visibility can deteriorate quickly by careless moves. It is a very popular dive site, since Do 24 can be dived easily and without a boat, even when the weather is to bad to go out somewhere with a boat. The surrounding landscape also offers interesting details and artefacts to divers interested in military history, since there are still remains of bunkers and former emplacements for anti aircraft guns of the Wehrmacht.

Technical data refer to the model Do 24 T-3:
Wing span: 27,00 m
Length: 21,95 m
Hight: 5,75 m
Wing area: 108 m²
Take-off weight: 16.200 kg
Maximum speed: 290 km/hService ceiling: 5.600 m
Range: 4700 km
Engines: 3 x BMW Bramo-Fafnir 323R-2 with 1000 hp each
Crew: 6
Armament: 2 x MG131/13 mm and one MG151/15 mmare still remains of bunkers and former emplacements for anti aircraft guns of the Wehrmacht.