Søm freeømrode
No surface boa mark.
Ideal place for beginners, as well experienced divers.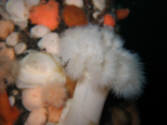 Be aware anyway that wind over 8m/s, N, NENW can push you away from land.
Nice beach, slowly decending, make this divesite an ideal training place, as well the wall near by dropping down to 35 m, gives an ideal dive site for experienced divers.
Very well protected from all sort of wind direction, makes this dive site ideal also for all kind of divers-levels and an ideal night dive site.