Narvika
GPS position: N 58 167781 E 008 45733
Type: wall dive
Level: for everybody
Current: no
Depth: 2-33 m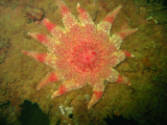 Be aware anyway that wind over 8m/s, N, NENW can push you away from land.
Ideal place for beginners, as well experienced divers, slowly decending, make this divesite an ideal training place as well the wall near by dropping down to 35m, gives an ideal dive site for experienced divers.
Very well protect from all sort of wind direction, makes this dive site ideal also for all kind of level of divers and an ideal night dive site.
At the site is also a toilette available. Start the dive site from the end of the pontoon, where you see the aluminium stairs.