"M 1104" (ex "Jan Hubert")
GPS position: N 58.002.585 E 007 55 301
No surface boa
Type: wreck
Dimension: 49,73 x 8,14 x 3,75 m.
Level: Trimix divers
Current: Yes
Depth: 50 to 62 m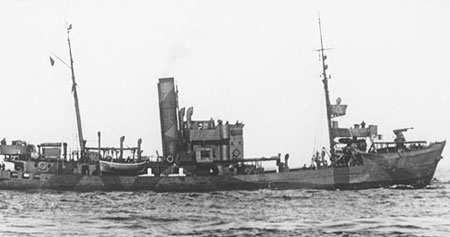 Do not dive if the wind is over 8 m/s!
Click edit button to change this code.
"M 1104" was a minesweeper of the german navy during the second world war. Built: 1937 – †1941
Grosstonnage: 460,2 GRT or 171,7 NRT
Displacement: ~930 t
Length: 54,70 m
Breadth: 8,10 m
Draught: 3,87 m
Engine: one triple-expansion steam engine rated at 820 ihp
Speed: 11,9 kn
Crew: 33-58
Armament: anti-aircraft guns, not specified
The ship was built at H. C. Stülcken Sohn in Hamburg as an "Elbe" type trawler (yard no. 719). It was launched on the 14.4.1937 as "Jan Hubert".
On the 27.5.1937 "Jan Hubert" was put into duty as a fishing vessel by its owner Ernst F. Hubert from Hamburg-Altona. So Hamburg was its homeport. When the second world war broke out, "Jan Hubert" was requisitioned by the german navy. The Kriegsmarine rebuilt the ship to serve as a minesweeper. It was put into duty as "M 1104" on the 22.9.1939 at the same time when the 11. Minensuchflottille (1) was established. This flottilla consisted of eight minesweepers ("M 1101" – "M 1108"). Until 1940 the 11. Minensuchflottille (1) was tasked with safeguarding duties in the baltic sea. In january 1940 the unit was relocated to the westcoast of norway. During operation "Weserübung" in April 1940 it had additionally to perform escort duties for german convoys heading for norway with supplies for the german invasion army.
On the 8.7.1941 "M 1104" under command of Lt. Walter Meyer was ordered to escort the finnish cargo ships "Aura" and "Luba" that were heading west from Kristiansand to Stavanger. At Vestergapet the convoy got into thick fog with visibility dropping to zero. Meyer ordered "M 1104 to stop. The "Aura" following behind couldn´t stop quick enough to avoid a collision. So "M 1104" was rammed by "Aura" and started to sink immediately. Although "Aura" undertook an unsuccessful attempt to assist "M 1104" it could not be saved and sank at 4:45 hours. The crew was rescued by "Aura".
The wreck of "M 1104" was rediscovered in the fall of 2010 after a year long search. It rests at a depth of between 45 and 70 m standing on its keel. The stern is situated lower than the bow. The wreck lies between two huge underwater rocks to both of its sides. It is mostly intact and in excellent preservation. Much of its nautical equipment, especially the armament, which consisted mainly of two anti-aircraft guns on platforms at the bow and the stern, can still be seen. On the starbord side (right side) at the rear end of the forecastle the damage caused by the collision with the "Aura" is clearly recognisable.Dives at "M 1104" offer truly spectacular impressions as they are offered only by few other wrecks in the area. The wreck is quite different from most other wrecks because of its untouched and upright standing appearance, its very good preservation and the fact that it quite visibly recounts the story of its sinking. It is clearly an absolute highlight, even for divers who have allready seen quite many good wrecks. But diving at "M 1104" is reserved to technical divers with wreck experience because of its great depth and the quite exposed position. Dives mandatorily demand use of Trimix and decompression procedures.
Click edit button to change this code.