Minesweeper M-426
GPS position:
Bug-Ende: 58° 05,133 N; 07° 58,470 E
Heck-Ende: 58° 05,135 N; 07° 58,442 E
Oberflächenboje (1 gelb)
Typ: Wrack
Material: Stahl
Maße: 62,3x 57,6x 8,9 m.
Level: Erfahrene Taucher
Strömung: ja
Tiefe: 15 to 20m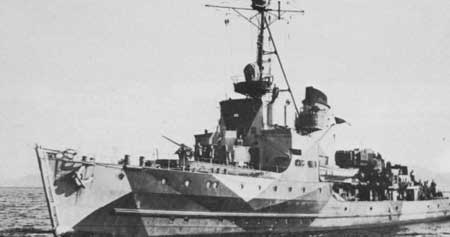 Es wird nicht empfohlen bei Wind von S, SW, SO und bei Windstärken von mehr als 8/s zu tauchen!
The minesweeper M-426 was part of the German Minesweeper squadron 29, and had up to September 11th 1944 cleared mines which had blocked the waters of Skagerak together with M-415, M-301 and M-426. On their way back to Kristiansand after they had completed their mission, the squadron started exercising various drills. Approximately at the same time, 39 Beau fighters planes started from England on a mission as "Anti Shipping" along the coast as operation area. Later on the afternoon same day, M-426 sounds the airplane alarm and shortly after the Beau fighters attacks the squadron. The attack is very furious with rockets and torpedoes. Despite the odds against them, the squadron manage to hit at least three airplanes, and one of the fighters hits the water. Soon after M-426 takes hits from rockets from the Beau fighters and catches fire. The vessel is now in flames, all the engines are cut out, and the hull is heavy damaged from gunfire and rockets. The crew tries to salvage the vessel after the attack, and in their effort they also get assistance from M-415 who tries to tow the damaged vessel back to Kristiansand. Unfortunately it gets clear that M-426 will not reach Kristiansand before she will sink, and therefore the captain on M-415 decides to set course for more shallow waters around Vestergapet, but the situation now get rapidly critical and a last attempt to solve the problem is unsuccessful. M-426 sink on twenty meters depth outside Våsbygd south of Kristiansand. Out of the crew five men dies as the result of the attack, and nearly thirty gets wounded. Three of the casualties follows the vessel when she sinks, and the remains of the crew is thereafter picked up by M-415.
Today the wreck of the minesweeper lies just outside Kristiansand on a depth of twelve to twenty meters, whereas the stern is the deepest part. The wreck is not in a good condition. Strong current and the remains of ammunition provides some planning before a safe dive.